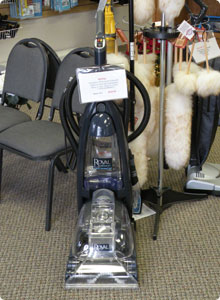 Removing deep down dirt is a breeze with a Royal Carpet Extractor. These powerful and effective cleaners are simple to use and can save homeowners a lot of time and money. Owning your own machine means that you can clean whenever you want and at whatever pace you want. And when you compare the cost of hiring a professional to clean your house, or the price of renting a carpet extractor from a store, you can easily see the return on your purchase after just a few uses. So whether you are looking to occasionally clean your carpets, or if you are cleaning up stains on a daily basis, a Royal Carpet Extractor can definitely meet your cleaning needs.
Designed with a unique agitation system, the Procision Extractor features two revolving brushes that rotate in opposite directions to clean both sides of the carpet fiber using a belt drive that is easy to replace. And unlike other carpet shampooers, the unit also features twice the suction power - allowing two inlet nozzles to remove dirty water from the carpet more quickly and effectively. This prevents dirty water from soaking into the carpet backing or padding. Also using heavier designed water tanks that don't crack like the others thus saves the expense of costly replacement tanks.
Koblenz Floor Cleaning System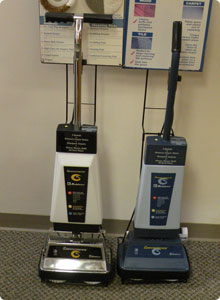 The Koblenz Cleaning Machine is a Total Floor Care System which lets you Scrub, Polish, Wax, Luster and Shampoo all of your floors. It can be used on hardwood floors, ceramic, marble and much more. It is the only hard floor machine that also takes spots and stains out of carpeting.
The P-2600 is the best Koblenz twin brush machine for commercial or home use. We also carry the P-820 model for home use.
Reliable Steam Boy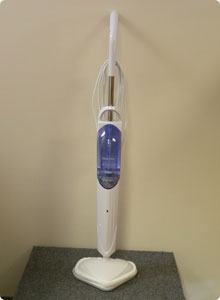 Imagine cleaning your floors and carpets with the purity of simple water. The dream is now a reality with the remarkable Steamboy steam floor mop. Plug it in, turn it on, and in seconds the Steamboy will change the way you clean. Steam is a great, effective way of removing dirt and killing bacteria and germs naturally. Steamboy delivers 248 Fahrenheit steam to floor and carpet surfaces, sanitizing as it cleans. Now you can say goodbye to expensive and potentially harmful chemicals.